Our Memberships
Gym, swim and play to a healthy lifestyle at The Parks. Our members enjoy the variety of an inclusive approach to fitness, with access to the gym, pools, group fitness and stadium.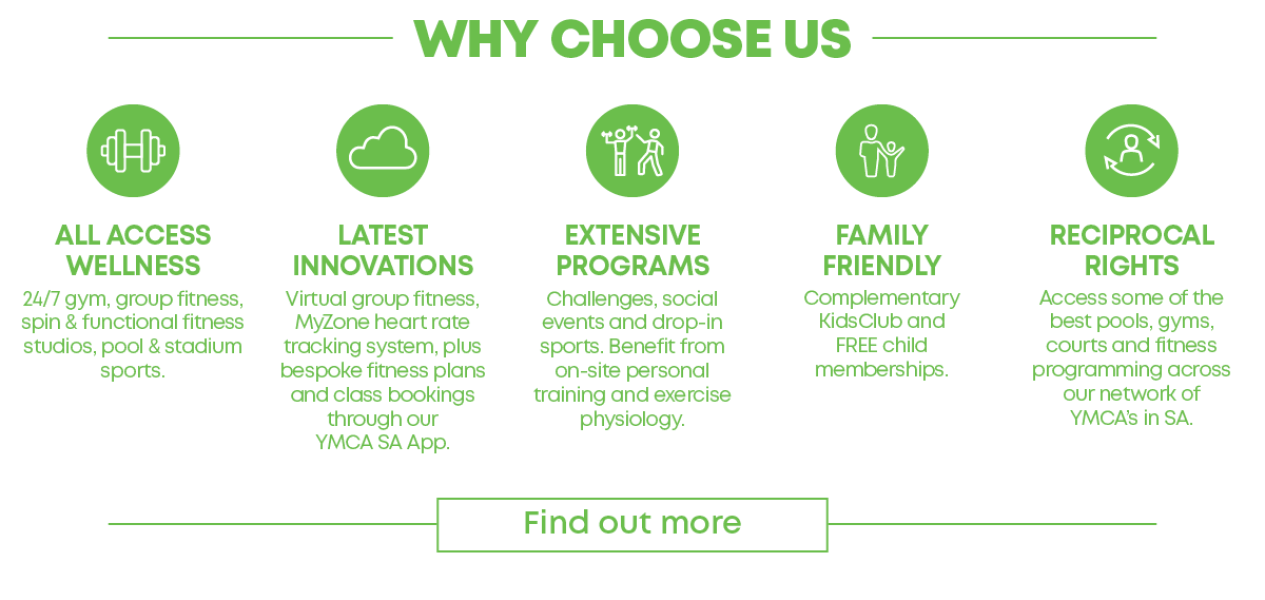 All Access 16Y+
$19.50 per week
Live and feel well with our All Access membership
Active Adults 60Y+
$13.65 per week
Fitness, strength and balance training for the over 60's
Active Youth 10Y – 15Y
$13.65 per week
Encouraging the development of healthy and active lifestyles
Features
*Before visiting the gym a youth gym induction is mandatory. Book your induction online immediately after purchasing an Active Youth membership to avoid delays in access.
Important Membership Terms
A $59 joining fee applies to all new memberships.
Memberships are periodic (ongoing) fortnightly direct debit.
No cancellation fees apply; we simply need 14 days written notice of cancellation (one more direct debit will come out after notice is provided)
Terms and eligibility requirements apply for the Concession and Mates Rates (details below). Mates Rates can only be purchased in-person at Customer Service.
'Always on' discounts
Mates Rates Membership Discount
Friends who exercise together train longer, burn more calories and visit the gym more regularly.
Receive up to 20% off standard All Access membership rates by joining with a friend or family member. Even better, only pay one $59 joining fee for those who join together. Mates Rates Discount only applies to All Access Memberships.
What you need to know:
'Mates' must use one set of payment details (bank account or credit card) for ongoing direct debits of all 'mates'
Up to 5 individuals can join together and receive the Mates Rates discount, however, all debits must come from one set of payment details.
Must be completed in-person at Customer Service with all 'mates' present at the time of sign-up. Each 'mate' will need to fill out their own membership form.
If your 'mate' cancels their membership, your membership will automatically revert to the standard non-discounted price.
Already joined and want to add a 'mate' to start getting a discount? Not a problem if you are on our standard direct debit membership. Add 'mates' to your account (and begin receiving the Mates Rates Discount) at any time.
Modification to one 'mate' can impact all 'mates'. If your 'mate' cancels, your membership will automatically be reverted to the non-discount membership rate.
Unable to combine Mates Rates and Concession Discounts.
Discount can only be applied for 2 or more All Access Members. Other membership types (Active Adult, Active Youth, Aquatic) and Swimming Lesson memberships, do not qualify for Mates Rates, nor can they be used to qualify for the Mates Rates Discount.
Breaking down the barrier of affordability is a key component to the creation of vibrant hubs of community wellbeing and activity.
Concession discount are applicable to All Access Membership and some casual entry fees. All Access - Concession memberships can be purchased online or in-person. Proof of valid concession required at sign-up/first visit. Eligible concessions include:

Full-time students
Pensioner Concession Card
Health Care Card
Commonwealth Seniors Health Card
DVA Health Card
Seniors Cards are not accepted, however, we do offer our Active Adults Membership which is a reduced membership rate. The concession discount can not be combined 'Mates Rates' or any other discount.
Other membership types
All memberships are also available to be purchased 6 months upfront.
Upfront memberships are non-refundable and non-transferable and can not be put on suspension. For full flexibility, we recommend purchasing a standard periodic (direct debit) membership.
A visit pass enables the pre-purchase of casual admission visits at a discount of 10%.
| Access Type | Number of visits |
| --- | --- |
| All Access Visit Pass (day pass to the entire centre) | 10X |
| Aquatic Visit Pass (pool access only) | 20X |
10X visit passes expire 6 months from date of purchase. 20X visit passes expire 12 months from date of purchase. Visit passes are non-refundable, non-transferable and can not be put on suspension.